Leaves from the Hours of Albrecht of Brandenburg
Cardinal Albrecht of Brandenburg
Owners
Cardinal Albrecht of Brandenburg (1490-1545), Archbishop and Elector of Mainz, was an important political and ecclesiastical figure, a friend of Erasmus and an opponent of Martin Luther. He was also one of the most active art patrons of his day. Painters who completed commissions for him include Albrecht Dürer, Mattias Grünewald and Lucas Cranach the Elder who painted his portrait. The Book of Hours from which these leaves were taken, is the earliest of three manuscripts illuminated for him by Simon Bening. The main body of the book is in a private collection, but miniatures removed from it are dispersed across various institutions, including the Nationalmuseum in Stockholm, the Carnegie Museum of Art in Pittsburgh and the Metropolitan Museum of Art in New York. The other two manuscripts which Simon Bening illuminated for the Cardinal are his Prayerbook of c. 1525-1530 (Los Angeles, J. Paul Getty Museum, MS Ludwig IX 9) and another Book of Hours of c. 1530-1535 (Stockholm, Kungliga Bibliotheket, MS A.227).
1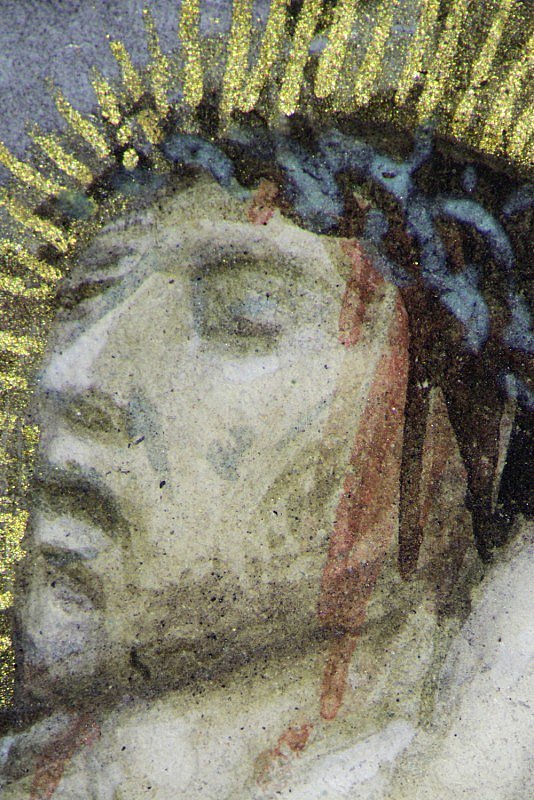 Detail of Christ's face under magnification (20x).
2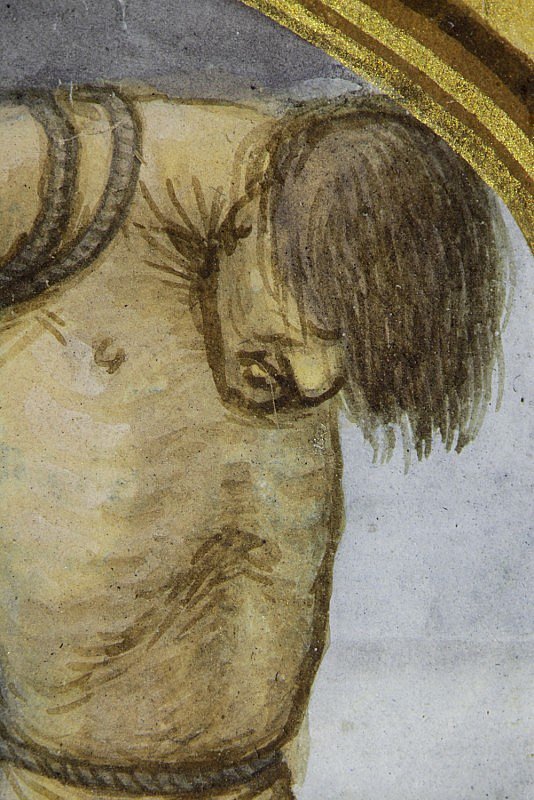 Detail of the bad thief under magnification (7.5x).
3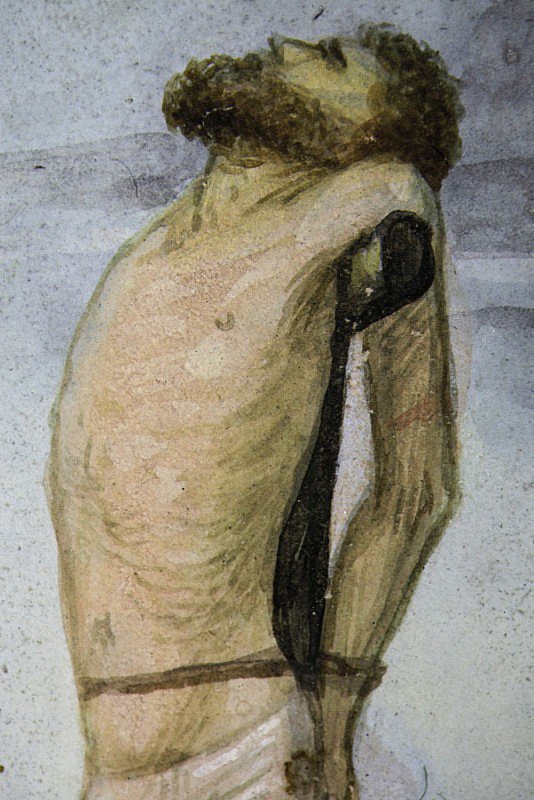 Detail of the good thief under magnification (7.5x).
4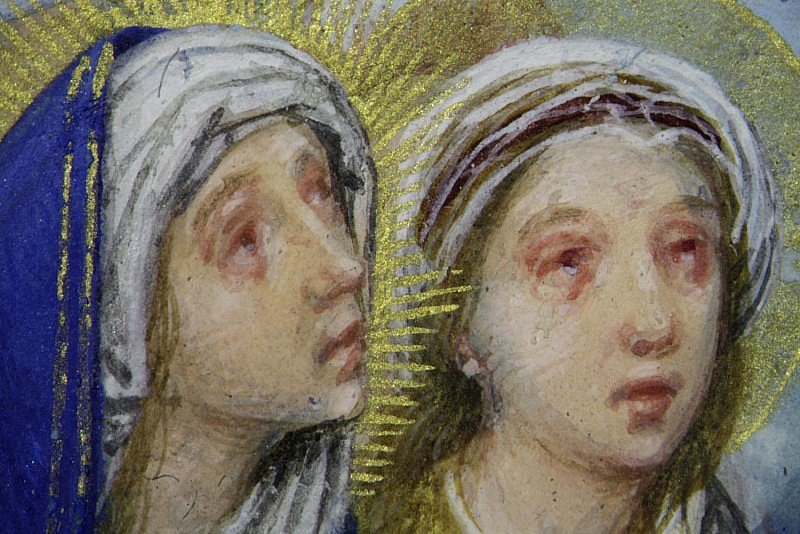 Detail of the women's faces under magnification (7.5x).
5
Detail of St John's face under magnification (7.5x).
Crucifixion
This poignant scene shows the Virgin Mary, her companion and Saint John overwhelmed by grief at the sight of Christ's suffering. Clustered near the base of the cross they keep vigil, with their eyes red and swollen from crying. The unrepentant thief on Christ's left, having scorned the Saviour, has turned away. The good thief, aligned with Christ, his head strenuously lifted for a final gaze at the sky, embodies the hope for salvation.
Bening intentionally varied the flesh tones of the three crucified figures. Christ, pale and chalky in appearance, was painted with lead white and modelled with brown ochre and azurite blue in the grey shadows of his body and face (hotspot 1). The thief turned away from Christ was rendered with a mixture rich in yellow and brown ochres and azurite blue, perhaps his choleric flesh colour symbolically referencing his betrayal (hotspot 2). By contrast, the good thief is painted in a similar shade to that of Christ, though with slightly more vermilion red, with indigo blue in the shadows (hotspot 3). The subtle distinction in the colours used to paint the two thieves associates one with the Saved and the other with the Damned.
Related content: Leaves from the Hours of Albrecht of Brandenburg