Manuscripts
Jean Corbechon, Livre des propriétés des choses
This manuscript is one of the most sumptuous surviving copies of a popular medieval encyclopaedia. Designed to provide both empirical knowledge and moral guidance, the work was widely disseminated throughout Europe.
1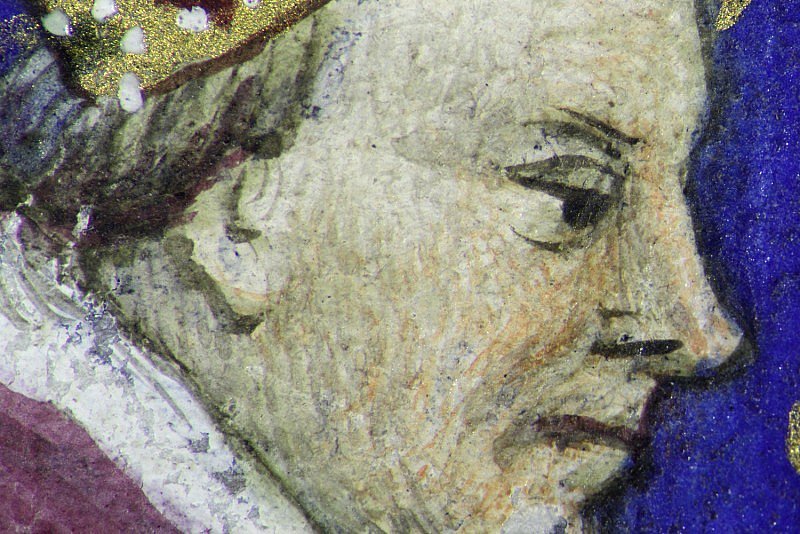 Detail of the king's face under magnification (20x).
2
Detail of a hybrid creature under magnification (7.5x).
3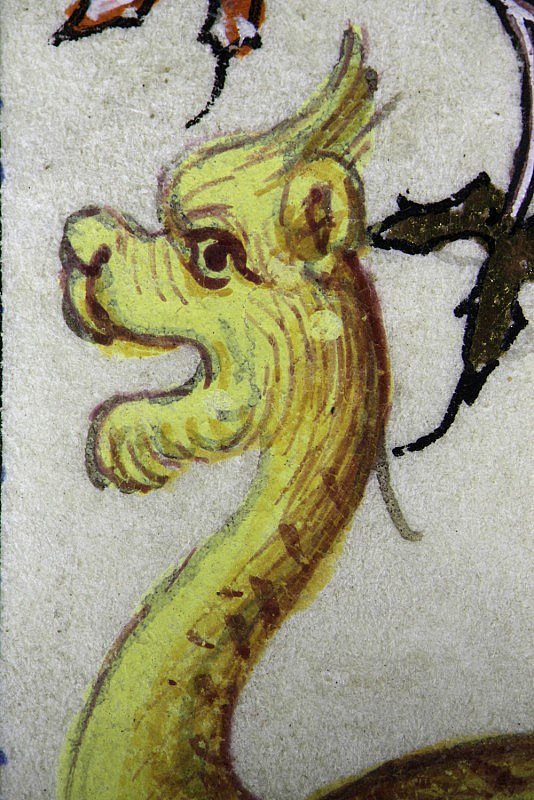 Detail of a dragon under magnification (7.5x).
Jean Corbechon presenting his translation to the king of France (Dedication and Prologue)
Holding a blank scroll, the king accepts the manuscript presented to him by a kneeling Jean Corbechon who is dressed in the black Augustinian habit of his Order. The French king is seated beneath a canopy adorned with fleurs-de-lis, the emblem of the French monarchy.
Four courtiers witness the event, including Charles V's brother, Jean de Berry (1340-1416), resplendent in a black robe trimmed with fur. Jean de Berry shared Charles V's passion for manuscripts and was one of the greatest art patrons of all time. Although the passage of text written below the miniature names King Charles V (1338-1380) as the dedicatee, it has been suggested that the image shows, instead, his successor, Charles VI (1368-1422), who had succeeded to the throne in 1380, and during whose reign the manuscript was made. Figures in the border include an angel playing a harp, two dragons and a hybrid creature wearing a cardinal's hat.
Related content: Jean Corbechon, Livre des propriétés des choses