Manuscripts
The Hours of Philip the Bold
Philip the Bold, Duke of Burgundy (1363-1404), is said to have recited his prayers daily from this manuscript, his Grandes Heures ('Great Hours'). A witness to his spiritual life, the volume is also his crowning achievement as an art-loving bibliophile. With nearly 200 images, this is one of the most sophisticated manuscripts to survive from the library of the Burgundian Dukes.
1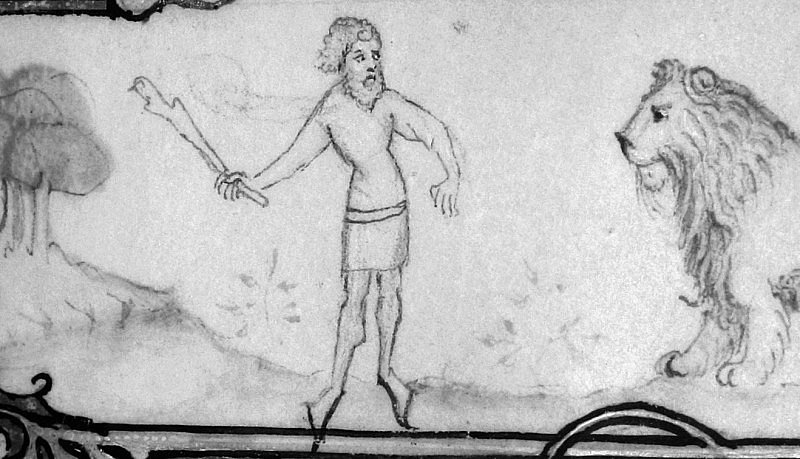 Infrared detail of the
bas-de-page
, showing that the man attacking a lion was originally using a sling, rather than a club, as his weapon against the animal.
Coronation of the Virgin with bas-de-page scene of a man attacking a lion (Hours of the Virgin, Compline)
This page was illuminated by the Master of the Grandes Heures. A pentimento is apparent in the bas-de-page image of a man attacking a lion (hotspot 1). The man was originally supplied with a sling, suggesting that a model of David and Goliath might have been used for the sketch. The sling was then replaced with a club, perhaps judged to be more effective in an encounter with a lion that was unlikely to attract God's protection, or considered a more accurate representation of a famous myth, if the scene was intended to show Hercules approaching the Nemean lion.
Related content: The Hours of Philip the Bold